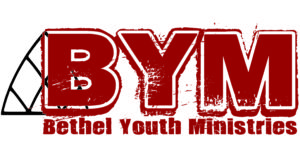 This ministry encompasses all Jr. & Sr. High youth. The primary focus is to love youth where they are, encourage them in developing their relationship with God, provide them with opportunities for nurture and growth, and to challenge them to respond to God's call to serve in their communities.
The hope is that our youth will grow into adults who will be faithful disciples who will live and spread God's word anywhere they live and work.
BYM is an outlet for youth to express themselves and their feelings to a group who loves and cares for them. Christian values are taught and undergirded by action and example.
BYM provides youth a chance to mingle, socialize and grow as Christians in an informal setting on Sunday night. Many exciting outings are planned toenhance their growth and communication with one another about their faith.
Youth meet on Sunday evenings at 5:30 p.m. in the Taylor Youth Bldg. Supper is provided.
Counselors:
Jeremy Brackett, Cathy Howell
Contact: Jeremy Brackett – Dir. Family Ministries @ 704-236-5628
jbrackett@bethelumc-midland.org
Wednesday Night Youth
BYM Leadership meets the 1 st and 3rd Wednesday evenings at 6:00 p.
Contact Jeremy Brackett – Dir. Family Ministries @704-236-5628
jbrackett@bethelumc-midland.org